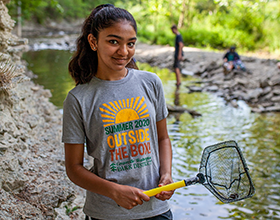 Centerville-Washington Park District 2023 summer camp registration begins on Monday, April 10 at 10 a.m. for residents of Centerville and Washington Township. Nonresidents may register beginning April 17 at 10 a.m. In an effort to improve your camp registration experience, we recommend you complete the required camp forms PRIOR to registration day.
Complete your Medical History and Authorized Pick-Up Forms >
Completion of these forms does not guarantee your child a spot in camp, but it will make the registration process go faster, increasing your chance of getting the camp spot you want!
Summer 2023 Camps
ACtivity Squad Camp & Junior ACtivity Squad Camp, Activity Center Park, ages 3 – 16
Adventure Camp, Grant Park (Kennard Nature Nook), ages 10 – 15
Hidden Meadows Day Camp, Grant Park, ages 3 – 12
Preschool Play Yard, Oak Creek South Park, ages 4 – 5
Recreation Day Camp, Forest Field Park or Iron Horse Park, ages 5 – 11
Stemily Studios Camps, Grant Park (Kennard Nature Nook), ages 7 – 12
Sugar Valley Day Camp, Bill Yeck Park, ages 3 – 12
Teen Drawing Camp, Activity Center Park, ages 11 – 15
Youth Archery Camp, Oak Grove Park, ages 8 – 12
For more details on each of these camps, please review the Spring News & Events brochure >
If you have any questions about Centerville-Washington Park District summer camps, please call us at 937-433-5155 or email us at mail@cwpd.org. Thank you! We are looking forward to a summer full of fun adventures!