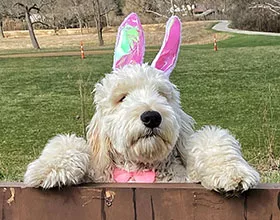 Join us Friday, April 7 from 5-7 p.m. at the Dog Park at Oak Grove Park for a dog-friendly egg hunt, fun dog-themed activities, giveaways and more! All activities will happen right outside the dog park and the off-leash areas will remain open for dogs to play. Egg hunt prizes are available while supplies last.
Please note: for their safety, children under 8 are not permitted within the off-leash areas of the dog park. Children ages 8 – 14 must be accompanied by an adult in the off-leash areas.
The Dog Park at Oak Grove Park is located at 1790 E. Social Row Rd.