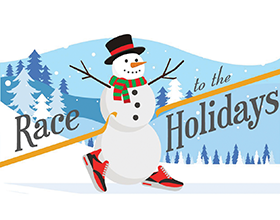 Participate in a family-friendly 5k Fun Run/Walk and 10k Run on November 7 at Schoolhouse Park. Race proceeds benefit Centerville-Washington Park District, Friends of Washington-Centerville Public Library and the Washington Township RecPlex!
Race to the Holidays is sponsored by Kettering Health Network.
A family-friendly 5K, bouncy houses, giant lawn games, costumed characters and health and fitness information round out this fun, fitness event! Register for the 5K by October 29 to get early bird pricing and guarantee a shirt!
The run/walk begins at 2 PM.