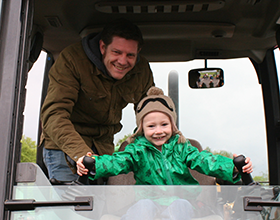 Check out big vehicles from around town at Oak Grove Park on Saturday, October 16 from 10 a.m. to noon! Honk a fire truck horn, shift tractor gears, push the buttons in the law enforcement vehicles and much more!
Business participants will provide a variety of giveaways such as candy, stickers and more!
This is a partnership event with the local non-profit House of Bread. House of Bread's mission is to prevent hunger and serve as a bridge to beneficial community resources. Sno-cones from Kona Ice will be available for purchase, with 25% of the proceeds benefiting House of Bread.
Attendees are encouraged to bring item donations for the families that visit House of Bread for lunchtime meals and support. Most needed items include baby wipes; diapers; healthy snacks like goldfish, boxes of raisins or fruit cups; coloring books and crayons; juice boxes or milk boxes; and hygiene items like hand soap, toothpaste or shampoo. Check their website for the most up-to-date donation requests!
Please note that 10:00 – 10:30 a.m. is a special sensory time! There will be reduced noise and lights. Participants will be discouraged from honking horns or turning on lights. The Centerville-Washington Park District will have a limited amount of ear protection for participants to borrow throughout the event.
No pets, please.