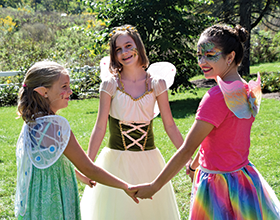 Our popular Fairy & Gnome Home Festival returns to Bill Yeck Park on Saturday, September 11 from 1 – 4 PM!
Celebrate your child's imagination and creativity. Build a fairy and gnome home out of natural materials for these woodland residents. Other activities include crafts, storytime, sweet treats and more. Kona Ice will be available for purchase. Come dressed as a fairy, gnome or elf!
This is a free event! There will be staggered start times for the event this year. You will sign up for a specific time slot! Preregistration is required. Register online or call 937-433-5155 to register.
Fairy and Gnome Volunteer Opportunity!
Our Fairy and Gnome Home Festival is growing by leaps and bounds! The
Park District needs your help to gather natural items for the festival. Time spent gathering can count toward needed volunteer hours! Please only gather in CWPD parks or on properties where you have permission. Make sure you are not picking items from live plants.
Suggested items: acorns, burlap, jute, lichen, pine cones, seashells, seed pods/seed heads and sweet gum balls. Please drop your items off at CWPD headquarters at
221 N. Main St. by Wednesday, September 1.