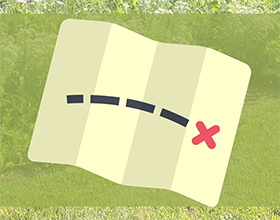 Pack the family in the car, because it's time for The Great Geocaching Adventure! Each week, beginning July 20, a new set of geocaches will be hidden in your 51 parks! Throughout this event, you'll hone your skills as an adventurer, treasure hunter and nature enthusiast! The Great Geocaching Adventure ends October 4. If you successfully find 20 geocaches, you'll earn a free t-shirt!
To begin your treasure hunting quest, simply type the provided GPS coordinates into Google Maps or a similar mapping program. It will guide you to where you should start looking for the geocache. Coordinates will be posted on this webpage and on Facebook as they become available!
Each geocache is the same – a clear, 7in x 5in box. Once you find the geocache, sign the log to prove you found it. Keep a list of all the caches you find. When you find 20, email us at mail@cwpd.org and we will cross-reference with the logbook you signed!
Also, inside each box are small trinket items to trade. You don't have to trade anything, but if you do, please make sure the item you are trading is family appropriate and not trash or money. Re-hide the container exactly where you found it. Geocaches will be available for two weeks in each location, then they will be deactivated.
Cache In Trash Out® (CITO) is an environmental initiative supported by the geocaching community. Since 2002, CITO has helped preserve the natural beauty of cache-friendly spaces. CITO can happen on every geocaching adventure! Pick up any trash you see on the trail. Clean up the area around each geocache. These small acts make a huge difference. Please take a bag and pick up any trash you see in the park!
July 20 – August 1 coordinates (These caches have now been removed.):
Manor Park: N 39° 40.232 W 084° 08.375
Red Coach Park: N 39° 39.917 W 084° 08.341
Iron Horse Park: N 39° 39.370 W 084° 08.414
Hithergreen Park: N 39° 39.793 W 084° 09.230
Village South Park: N 39° 39.075 W 084° 08.813
July 27 – August 8 coordinates:
Little Woods Park: N 39° 40.293 W 084° 09.872
Rahn Park: N 39° 40.165 W 084° 10.238
Old Lane Park: N 39° 39.873 W 084° 10.584
Brittany Hills Park: N 39° 39.688 W 084° 11.774
Grant Park, Kennard Nature Nook: N 39° 38.965 W 084° 11.129
August 3 – August 15 coordinates:
Woodbourne Springs Park: N 39° 39.440 W 084° 10.129
Donnybrook Park: N 39° 39.370 W 084° 09.636
Green Park: N 39° 38.928 W 084° 10.033
Grant Park: N 39° 38.654 W 084° 10.600
Yankee Park: N 39° 38.360 W 084° 11.752
August 10 – August 22 coordinates:
August 17 – August 29 coordinates:
August 24 – September 5 coordinates:
August 31 – September 12 coordinates:
September 7 -– September 19 coordinates:
September 14 – September 26 coordinates:
September 21 – October 4 coordinates:
For more geocaching adventures, visit geocaching.com!