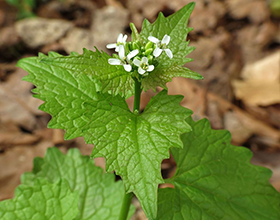 The Centerville-Washington Park District hosts an annual garlic mustard challenge each spring. This year, in response to social distancing guidelines and the stay at home order in place, the challenge has been modified.
Garlic mustard is an aggressive, non-native plant taking over natural areas. You can help restore and protect your native ecosystems with this fun family-oriented volunteer challenge! Drop off 13-gallon garbage bags filled with garlic mustard to Park District headquarters April 13 through June 8.
All families bringing at least five full bags will receive a $5 gift card to the local restaurant of their choice — choose from City Barbeque, Chiapas Mexican Grill, Flavors Eatery, Graeter's Ice Cream or Old Scratch Pizza! Ten bags will earn your family $10, 15 bags will earn you $15, and $20 bags will earn you $20! (You may always pull MORE garlic mustard, but gift cards are capped at $20.)
Due to the current national health crisis, teams are limited to family members residing in the same household. Each registered team will be given 20 biodegradable, certified compostable garbage bags to start.
Contact Ginger Clark at gclark@cwpd.org to register your team and get started! Registration deadline is Wednesday, April 8 by 4:30 p.m.
Please note that we will need 10 registered teams to hold this challenge. You will be notified on April 9 if the challenge is on! Recruit other families and see who can pull more garlic mustard! We hope this challenge will inspire families to spend time together outdoors, learn about protecting our native ecosystems and get some exercise!