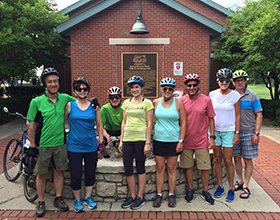 Bike Centerville and the Centerville-Washington Park District are offering a summer full of opportunities for both novice and avid bicyclists to get out and explore the community by bicycle. Trained and experienced bike leaders will teach bicyclists different routes throughout Centerville and Washington Township, allowing them to reach shopping, parks and more!
Each 10- to 15-mile easy-paced bike ride will start and end at a park. Bike rides are available all summer starting at either 4 p.m. Sundays or 10 a.m. Mondays. You may sign up for as many rides as you like.
Remaining rides:
July 14/15: Iron Horse Park, 6161 Millshire Dr.
July 21/22: Yankee Park, 7500 Yankee St.
August 4/5: Activity Center Park, 221 N. Main St.
August 11/12: Oak Creek South Park, 790 Miamisburg Centerville Rd.
The bike rides are for those 18 years or older. The rides are free, but preregistration is required in order to gauge attendance. Register online or call 937-433-5155.