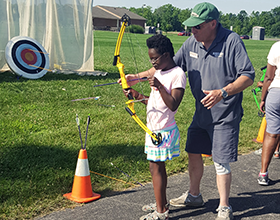 The Centerville-Washington Park District is teaming up with Synergy Family Therapy Specialist, the Washington-Centerville Public Library and the Washington Township Recreation Center to bring the 2nd annual Adapted Action Day to Oak Grove Park!
Those differently-abled or with special needs (and families) are invited to network with other families while enjoying recreational activities for all abilities! Participate in archery, kickball, tee-ball, fishing, sidewalk chalk, biking, and various small games and crafts!
Come out and play at this 2018 Ohio Parks and Recreation Association award-winning program on Saturday, June 22 from 10 a.m. to noon!