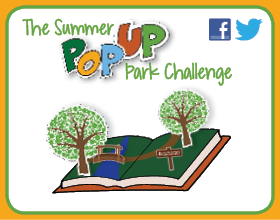 Throughout the summer months, we'll be posting challenges on two of our social media accounts — Facebook and Twitter. Complete ten out of 15 posted pop-up park challenges and win a $20 City Barbeque gift card! In addition, each winner will be entered into a grand prize drawing sponsored by Cabela's — a $100 gift card to their store! (One prize per family)
Most challenges will involve visiting a specific park location to fulfill a task or find a landmark. Other challenges will involve attending one of our special events! You won't know the challenge until the challenge time clock begins, and then you'll have a deadline to complete it! Post a photo proving challenge completion with the tag #itsacwpdsummer.
The challenge begins Monday, June 3!
Thank you to Cabela's and City Barbeque, our Summer Pop-Up Park Challenge sponsors, for their generous prize donations!