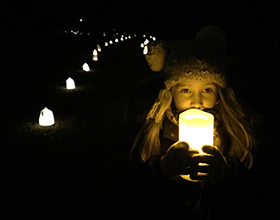 Enjoy a one-mile candlelit stroll through the beautiful nature park! We are hosting the annual Luminary Walk on Friday, December 14 from 6:30-8:30 p.m. at Bill Yeck Park, a 194-acre nature park located on E. Centerville Station Road. Approximately 1,000 visitors enjoy this free holiday tradition every year!
Warm up by the bonfire with your hot chocolate and step inside the historic house for live holiday music from the Hithergreen Strummers! Participants are encouraged to bring travel-sized toiletry items to donate to Helping Hands of Dayton, a local nonprofit that provides basic necessities to families with a child admitted to intensive care at local hospitals. During the event, you may assist Helping Hands of Dayton by making get well cards for children.
A shorter paved path is available for those prefer to skip the one-mile walk. The short loop is wheelchair and stroller-friendly! Free event parking is located at adjacent Forest Field Park, 2100 E. Centerville Station Rd.
The Luminary Walk is free to attend, but pre-registration is requested. You may register online or call (937) 433-5155 to register.
If this event must be canceled due to rain, we will try again Saturday, December 15! Check our homepage for any weather-related changes.