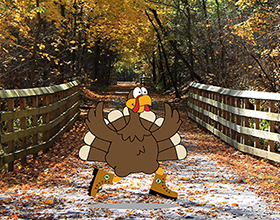 Spend time with family, breathe in the fresh air and get some outdoor exercise — you could win $50 from Up and Running In Dayton! Opting outside the day after Thanksgiving is a great alternative to a hectic day of Black Friday holiday shopping!
You can design the hike you want. Choose a CWPD park with natural or paved trails. Then, head out on Friday to walk off your delicious Thanksgiving feast. Post photos in the Facebook event or with the hashtag #optoutsidewithCWPD on Instagram or Twitter (your profile must be public) and you will be entered into a drawing for the $50 gift card.
Pictures must be posted by 11:59 p.m. on November 23 and must be in a Centerville-Washington Park District park. We hope you will decide to opt outside this year!