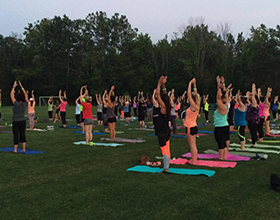 Ommmmm … Method Yoga Studio owner and instructor Megan Lees will lead YoGlow, an outdoor evening yoga class, at Forest Field Park on Friday, September 21. We will provide glow bracelets for all participants to wear!
This yoga class is for all levels and will include a warm-up, breath work, standing poses, flowing poses, and end with relaxation. Please bring your own yoga mat and water. Dress comfortably.
If you'd like to come early and enjoy a nutritious beverage, The Shakery Juice Bar will be on site from 7:00 – 7:45 p.m. Program check-in and yoga mat placement will begin at the shelter at 7:45 p.m. Yoga practice begins at 8:00 p.m. In the event of inclement weather, we will hold the event on Saturday, September 22 instead!