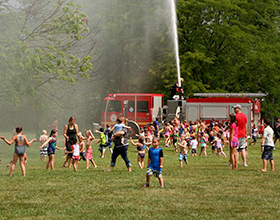 Splash into the end of summer Friday, July 29 at this annual special event full of water-themed games and activities! Expect a visit from the Washington Township Fire Department as the grand finale. WTFD will spray water from their truck to cool the children off!
Splashtacular will take place at Robert F. Mays Park this year from 10 a.m. to noon. Refreshments from Kona Ice will be available for purchase.
Advance registration is not required. Please sign in your child and stay with them during the event. Due to the high number of participants, we cannot provide supervision for individual children. Splashtacular is appropriate for ages 3 – 12.