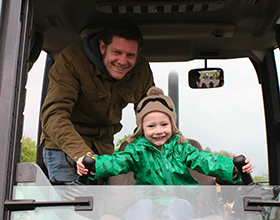 Check out the big vehicles from around town on Saturday, May 12 at our annual free Big Rig Gig! Visit Oak Grove Park from 10 a.m. to noon to honk a fire truck horn, shift tractor gears, push buttons in law enforcement vehicles and much more!
Attendees are encouraged to donate school supplies to aid Centerville students in need. Donation suggestions include unopened markers, colored pencils and two-pocket folders.
Sno-cones from Kona Ice will be available for purchase.
Do you have a "Big Rig" you would like to include in the event? Contact Ally Deshurko for more information!
Registration is not required for Big Rig Gig.
This event is LOUD. Please consider providing ear protection for your child(ren) if sensitive to sound. No pets, please.