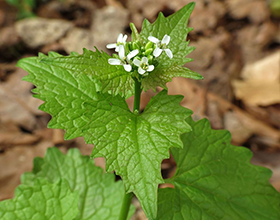 Are you up to the challenge? Starting this May, pull your weight and protect your parks!
Garlic mustard is an aggressive, non-native plant taking over natural areas. Help restore and protect your native ecosystems with this fun volunteer challenge! Drop off 13-gallon garbage bags filled with garlic mustard to headquarters May 1 through June 30. All participants who bring at least one full bag will receive a Pull Your Weight t-shirt! The team or individual to bring the most filled bags will win a grand prize!
We'll host an information session to kick off the challenge May 1 from 6 – 7 p.m. at the Bill Yeck Park Smith House. Attendance at this session is encouraged but not required. If you can't attend, please contact Ginger Clark for the information you need to get started.
The Pull Your Weight Challenge is open to individuals, families, scouting groups, corporate service groups and students. Anyone who would like to help us combat this rapidly spreading threat to our native species is welcome to participate!